[Announcement] Notice on Wegobuy Service During the 2022 CNY Holiday
Post time 2022-1-25 17:16:27
|
|
楼主
Dear users,

Greetings!

The CNY holiday is coming, thank you for your support in our past year! Wegobuy will provide you with all services during the CNY holiday (January 31st and February 1st are holidays)! It is available to place an order, contact our customer service, return or exchange items and submit your parcels as usual. The main arrangements are as follows:

1. Order Processing

We will process your orders in time. Due to many sellers are going to take a vacation during the CNY holiday, they won't ship items and provide after-sale services. Considering the user experience, we have conducted a research on taobao, weidian, etc. in advance, we will process orders which can be shipped during the CNY holiday. At that time, u could check whether your order can be shipped and its purchasing time on the top of the order page (as is shown below). Orders which cannot be shipped will be processed gradually since February 7th. It is recommended that you rationally arrange your purchasing plan accordingly.

Illustration of Order Processing Timeliness During the CNY Holiday:

Illustration of Front-end Order Processing: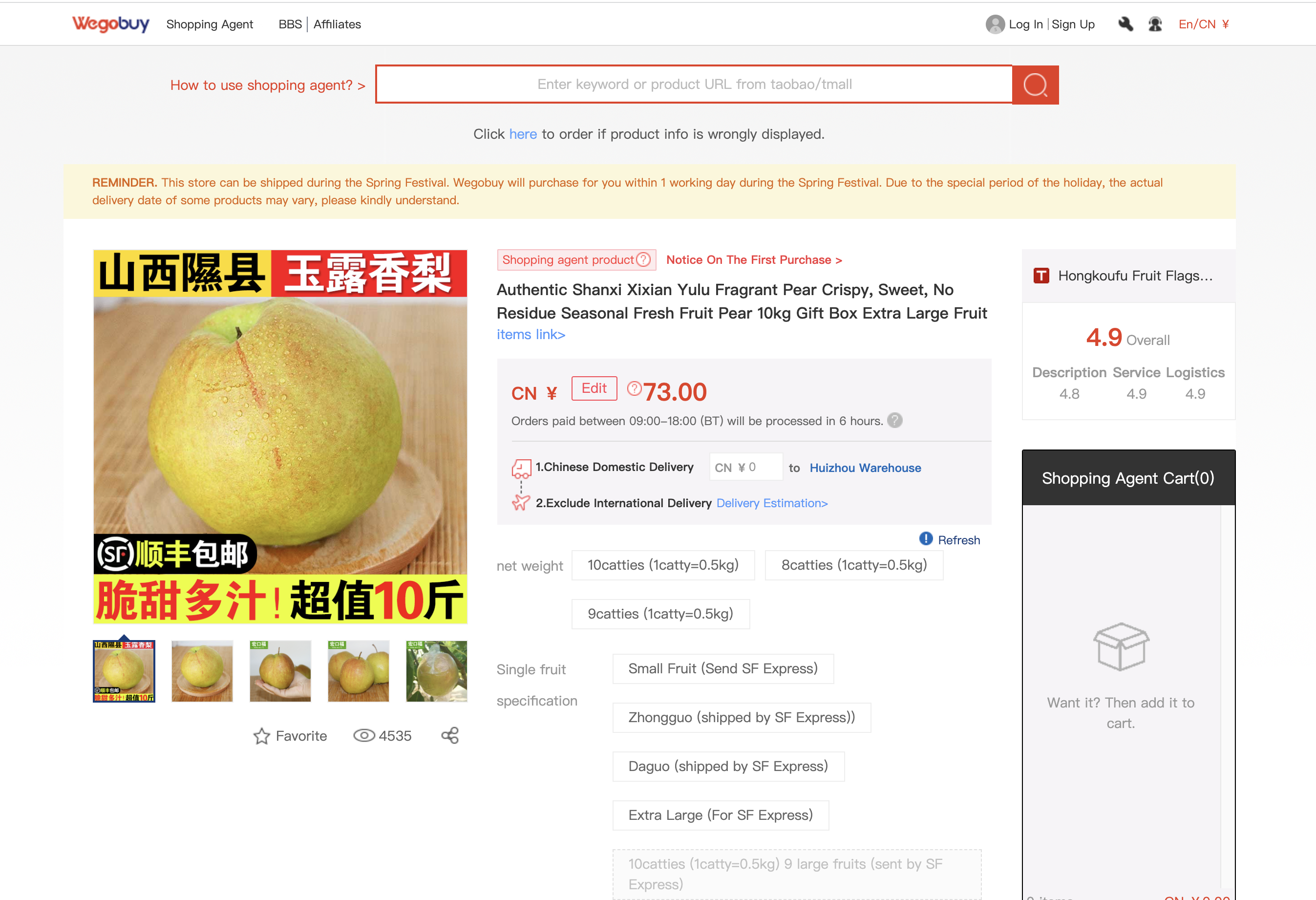 2. Warehouse Service

We will promptly process your product receipt, quality inspection, photography, weighing, warehousing, packaging, and delivery.

Illustration of Warehouse Service:

3. Logistics Support

We will promptly process your parcels while the relevant logistics providers are working. Affected by the CNY holiday, the vacation time of various logistics providers is different. Please carefully check the schedule provided by the following logistics providers, and arrange your parcel plan according to your requirements.
Click here to view the arrangements of logistics providers during the CNY holiday
.
4. Customer Service

We will provide customer service email support and process your inquiries in time. We will only reply customer service emails. It is recommended to send emails to
service@wegobuy.com
during the CNY holiday.
Illustration of Customer Service:

Wegobuy Marketing Team

2022.1.25
Threads

2177

replies

91754

friends

56