[Announcement]Notice about the launch of the new logistics route GD-E-EMS
Copy link
Post time 2020-8-14 19:00:06
|
|
楼主
Dear users,
Greetings!
In order to meet your needs, our company has newly opened GD-E-EMS route. This line goes to the following countries, including the United States, the United Kingdom, Lithuania, South Korea, Japan, France, Switzerland, Sweden, Spain, Saudi Arabia, Lebanon, Czech Republic, Italy, Germany, Belgium, Austria, New Zealand, Vietnam, and Thailand. The following from is the shipping fee comparison for 5KG package of GD-E-EMS,GD-EMS,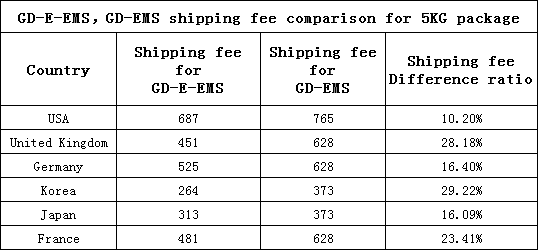 If you have high requirements for shipping time, it is recommended to choose GD-EMS to send your parcel.
We're looking forward to your experience of new logistics routes and feedback valuable suggestions!


Wegobuy Team
2020.8.14
Threads

1762

replies

91647

friends

55