【Announcement】Holiday notice for each logistics route during the Spring Festival
Post time 2021-1-28 17:14:01
|
|
楼主
Affected by the domestic public holiday Spring Festival and Wegobuy employee holidays (February 10, 2021-February 17, 2021), in order to ensure that our warehouse can arrange delivery in time after you submit the package, we will close each logistics route at 17:00 the day before the delivery stop, and will reopen the route at 9:00 on February 9.


You can submit the package after the route is reopened. The warehouse packing team will start processing the packages submitted during the holiday on February 15, so as to avoid untimely processing due to the accumulation of packages. After the operation is completed, the package will be delivered after the logistics provider resumes work.


At the same time, the timeliness of each logistics route may be delayed to varying degrees (10-17 days) due to the Spring Festival holiday. Please be patient and arrange purchasing time as soon as possible. For orders that have been placed in storage, please submit them as soon as possible to avoid logistics delays during the Spring Festival. We apologize for the inconvenience caused.


The following are the closing and opening times of each logistics route, for reference only, thank you.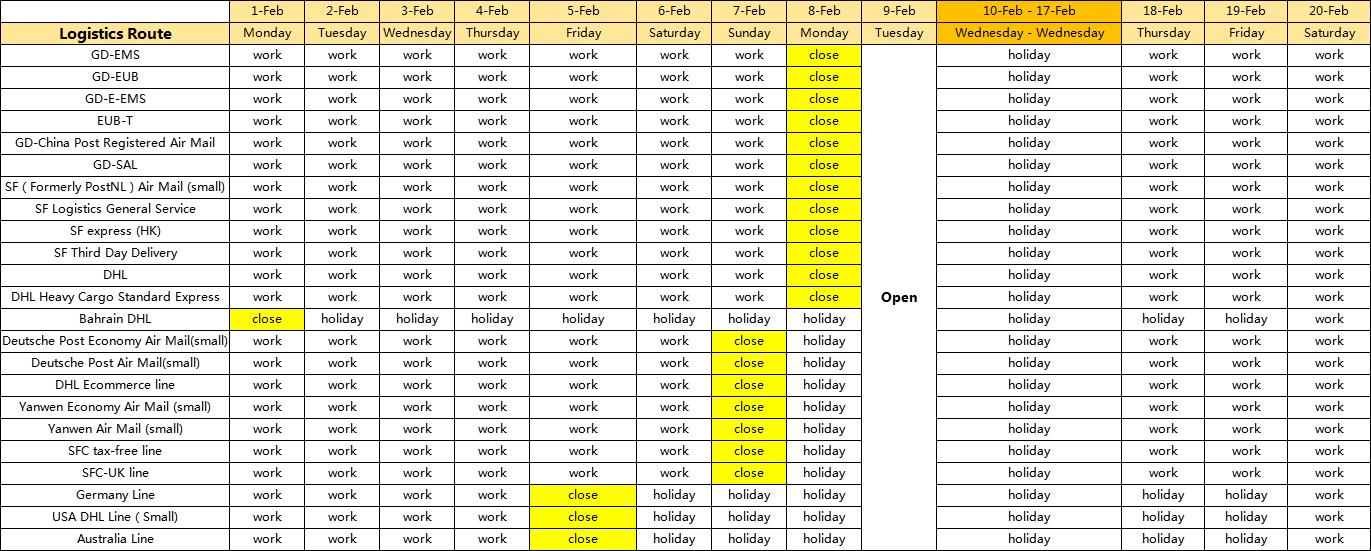 Threads

2177

replies

91754

friends

56